LabHEAT® Control system KM-RKL5/1004 *for industrial mantles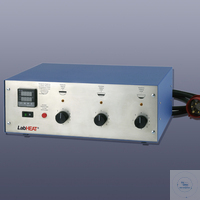 Afbeelding kan van origineel afwijken.
Bestel-nr.: 65501004
Prijs op aanvraag
Voor 1 stuk(s)
LabHEAT® Control system KM-RKL5/1004 for industrial heating mantles with 5 heating zones, main switch, 5 power control units with control lamp - allows a power adjustment of each heating zone. The lower heating zone of the industrial heating mantle is monitored by an electonic regulator with a built-in NiCr-Ni temperature sensor, by break of the sensor all heating zones are switched off, for the monitoring of the medium temperature a contact thermometer can be connected, nominal power of each heating zone 2300 W, 2,0 m supply (earthed) cable with 5-pole CEE plug/16 A, nominal volatge 230 V / 400 V.
meer
(-) Export-related data:
Douanenummer:
90328900 Niet in de actuele lijst
Land van oorsprong:
Germany
Regio van oorsprong:
Baden-Württemberg