LabHEAT® Industrial heating mantle KM-TG5-760 200 litres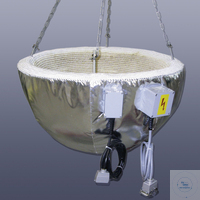 Afbeelding kan van origineel afwijken.
Bestel-nr.: 97205760
Prijs op aanvraag
Voor 1 stuk(s)
LabHEAT® Industrial heating mantle KM-TG5-760 for large spherical vessel 200 Liter Volume Ø 760 mm, flexible glass yarn heating element with built-in NiCr-Ni temperature sensor in the lower heating zone, outer jacket in glass cloth with four movable threaded bolts, bottom-outlet must be specified by customer, nominal power 9000 W, 3 heating zones, max. heating element temperature 450 °C, 3,0 m power supply (earthed) cable with 16-pole industry plug for connecting to our control systems, nominal voltage 230 V / 400 V AC. *** Special design -in waterproof construction or in stainless steel housing - available on request. We also produce industrial heating mantles with temperature sensors in all heating zones for cylindrical and flange vessels and also for heating explosive or highly inflammable media.
meer