Sunlab® Holder for 7 x 12 mm reaction vessels for Vortexmaster SU1901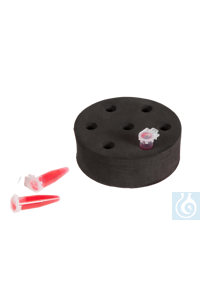 Afbeelding kan van origineel afwijken.
Bestel-nr.: 100198903
Prijs op aanvraag
Voor 1 stuk(s)
Sunlab Vortexmaster SU1901 - the economic alternative. This heavy vortexer with a weight of 4 kg is stable on the workbench in your laboratory even during high rotational speeds. Attachments for reaction vessels (7 x 1.5/2 ml) or microplates are available as accessory.
with touch-, timer- and continuous function
timer and speed digitally adjustable
200 - 3000 rpm
with large LED-Display
Dimensions: 108 x 155 x 105 mm

Attachment for Sunlab® Vortexmaster SU 1901

Order No. D-8903: For reaction vessels 7 x 1.5/2.0 ml
meer