Laboratory refrigerator EX490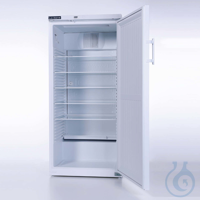 Afbeelding kan van origineel afwijken.
Bestel-nr.: 107712135
Prijs op aanvraag
Voor 1 stuk(s)
EX490 laboratory refrigerator with a spark-free interior, net capacity 490 litres. 220-240V/50Hz, consumption 0,983 (kWh/24h). Temperature regulation: steplessly adjustable 2 - 10°C,dynamic cooling system, lockable door, changeable door stop, 6 storage levels(5 height-adjustable glass shelves). Norm-compliant Our laboratory cabinets comply with the laboratory guideline DGUV Information 213-850 of BG RCI (''Safe working in laboratories'') and are therefore explosion-proof. Infinitely variable temperature control No matter what temperature you need - our laboratory cabinets can all be continously controlled from 1-15 °C. A room thermostat and a powerful fan in the interior ensure even temperature distribution. Thanks to the digital display, you can also keep an eye on the current temperature at all times. Stable Our laboratory cabinets are made of a sturdy sheet steel housing. An additional powder coating makes the cabinet impact and shock resistant. The interior is made of high-strength white plastic and is therefore particularly hard-wearing. Energy efficient Reinforced insulation and the use of efficient components make it possible: Lovibond ®  laboratory cabinets are characterised by outstanding energy efficiency. The EX220, EX300 and EX490 models have a ''fan stop'' function: If you open the door, the fan is switched off. Freely selectable door stop The door is supplied with a right-hand hinge as standard, but it can easily be converted to a left-hand hinge on request. The door is also lockable.  
meer
(-) Technische informatie:
Vonkvrije werkruimte:
Ja
Netto gewicht:
84 kg
EAN Code:
4049991127347
(-) Export-related data:
Bruto gewicht:
84 kg
Breedte verpakking:
0,73 m
Hoogte verpakking:
1,64 m
Diepte verpakking:
0,75 m
Optie:
Optie van:
2438200

Thermostatically controlled cabinet TC135 S

2438210

Thermostatically controlled cabinet TC140 G

2438230

Thermostatically controlled cabinet TC255 S

2438235

Thermostatically controlled cabinet TC256 G

2438240

Thermostatically controlled cabinet TC445 S