Thermostatically controlled cabinet TC140 G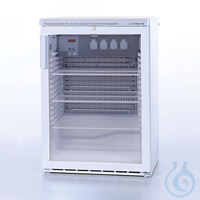 Afbeelding kan van origineel afwijken.
Bestel-nr.: 807728210
Prijs op aanvraag
Voor 1 stuk(s)
With glass door, net capacity: 140 l, 220-240 V / 50 HZ, powerful compressor cooling, built-in heating, 3 sliding grids + 1 floor grid, internal dimensions: 513 W X 441 D X 702 H mm, external dimensions: 600 D X 600 W X 850 H mm with worktop, 600 D X 600 W X 819 H mm without worktop, weight: approx. 48.0 kg Perfect for a number of different applications in industry and research. The temperature of the thermostatically controlled cabinets can be regulated individually in the smallest of steps - and an LED display keeps the status quo under control at all times. There are six models available with different useful contents and glass or steel doors. Versatile in use Our thermostatically controlled cabinets are the means of choice both for temperature-controlled storage of samples and for BOD determination in waste water analysis. The integral temperature control unit meets EMC directive IEC 61326 (''Electrical devices for measurement, monitoring and for use in laboratories''). Continuous temperature control The thermostat cabinets allow continuous temperature control. Over a range of 2-40 °C the temperature can be set in steps of 0.1 °C. Internal power connections The use of external devices is no problem thanks to several sockets installed in the interior. Energy efficiency The highly efficient components and reinforced insulation provide low consumption values Variable You can choose between 3 models with steel door (135, 255 and 445 l net capacity) and 2 models with glass door (140 and 235 l net capacity).
meer
(-) Technische informatie:
Netto gewicht:
48 kg
EAN Code:
4049991127453
(-) Export-related data:
Bruto gewicht:
48 kg
Breedte verpakking:
0,6 m
Hoogte verpakking:
0,85 m
Diepte verpakking:
0,6 m
Optie:
2422105

Laboratory refrigerator EX160

2422115

Laboratory refrigerator EX220

2422125

Laboratory refrigerator EX300

2422135

Laboratory refrigerator EX490
Optie van:
2444460

BOD measurement system BD600, with 6 sample system

2444461

BOD Measurement Device BD600 GLP

2444465

BOD measurement system BD 606, with 12 sample system